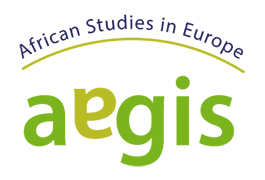 Dear AEGIS members and the wider European African Studies community,
These are extremely sobering times, as we witness and/or experience directly the unprecedented spread and scale of the global corona pandemic, with its many devastating effects, as well as the many deeply human and inspiring acts. With there being multiple and shifting 'epicentres', and the wave-like escalation already starting to relocate to the African continent, there is much more ahead to anticipate with dread and respond to with generosity, courage and hope.
On a more immediate and pragmatic note concerning AEGIS, due to the corona crisis and the related ongoing uncertainties, a range of planned AEGIS activities have necessarily already been cancelled or postponed, while others – some for dates in June – are still under consideration. Several more activities planned for the European Autumn or later remain scheduled as originally planned.
We are aware of the immense disappointment – as well as cost to some extent – both for the anticipated participants and for those who have planned such events with great commitment, energy and passion. We sincerely hope for everyone's sake that all this positive personal and intellectual investment will have the chance to bear fruit at a later date.
Below is an overview of the status of these different activities, as things currently stand in early April 2020. As this is a 'rolling' situation, subsequent updates will be provided as and when decisions have been made and new information becomes available. Both personally, and on behalf of the AEGIS Board, I wish everyone strength, courage and creativity in addressing the many challenges of the present, and a healthy and safe passage through these troubled waters.

Amanda Hammar, President of AEGIS 
1: Forthcoming AEGIS activities that have been cancelled/postponed:
CRG Africa in the Indian Ocean conference, Lisbon, 23-24 April 2020
The thematic conference of the CRG Africa in the Indian Ocean – entitled New Gulf Streams - Middle East and Eastern Africa intersected – scheduled for 23-24 April 2020 in Lisbon, has been postponed.
CRG African History conference, Leiden, 18-19 June 2020
The 5th Biennial Conference, planned for 18-19 June 2020 in Leiden, has been postponed. (This is consistent with all events planned at ASC Leiden being cancelled until after the European summer.) The conference will be shifted to 2022, still to be hosted by the African Studies Centre Leiden, thus keeping the usual rhythm of having biennial meetings in non-ECAS years.
2. Forthcoming AEGIS activities to be decided upon after Easter:
AEGIS PhD Summer School, Cagliari, 9-13 June
The biennial AEGIS PhD Summer School is due to be held in Cagliari from 9-13 June 2020, with the theme African Futures: Promises, Projections and Reflections on a Continent in Transition. As is the practice, the focus of the Summer School is linked to the theme of the forthcoming ECAS9 conference to be held in Cologne in June 2021, with the theme African Futures. A decision as to whether or not to run the Summer School has been postponed until after Easter.
CRG African Politics and International Relations Workshop, Hamburg, 11 June 2020
The CRG African Politics and International Relations has planned a workshop on the theme 'Non-Western Actors in Africa: Interests, Conflicts and Agency'. This is due to be held in Hamburg on 11 June 2020. The CRG Coordinators will review the situation after Easter. Until then they will not make any firm decision about postponement.
3: Forthcoming AEGIS activities occurring later in 2020, currently proceeding as planned:
ABORNE conference, Paris, 7-8 September 2020
The next conference of the CRG Africa Borderlands Research Network (ABRORNE), to be held in Paris – and co-organized with OECD - is planned for 7-8 September. The theme of the conference 'Security and Trade in African Borderlands'. As things stand, the conference is expected to go ahead as planned.
AfricaKnows! Conference, The Hague, 2-4 December 2020
The AEGIS thematic conference, AfricaKnows!, planned for 2-4 December 2020 in The Hague, Netherland, expects to go ahead. (See at: www.africaknows.eu) The call for papers/abstracts for the conference has been extended from 1 Apri to 1 May 2020. There are 50 panels to choose from (and if necessary panels can be added). In the event that there will still be major travel/mobility constraints late in the year due to corona, attempts will be made to organise the conference as much as possible in a virtual way. However, a decision on this will be made in September, based on an assessment of the situation at that time.